Once again, I'm a little late with this month's net worth update. I've been dealing with some issues that have hampered my ability to work on writing but it has also given me several post topic ideas as a result. That leaves me in a bit of a pickle that I hope to resolve soon.
August was an interesting month of precipitously falling oil and gas prices here in the US, while Europe is facing some of the highest energy prices they've ever experienced. This has led to quite a bit of market volatility and my net worth is almost entirely dependent on the stock market now that my employment has ended.
Let's have a look at where my net worth settled on September 1st: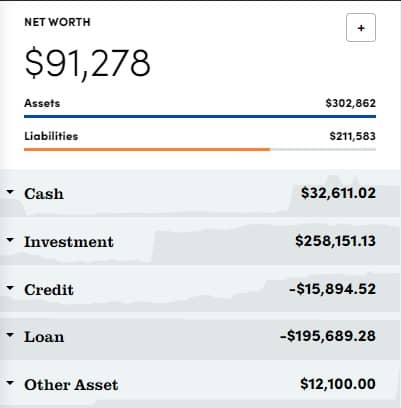 Net Worth = Assets minus Liabilities
| | | |
| --- | --- | --- |
| Assets | Amount | Change from Last Month |
| Checking/Savings | $32,611 |   |
| Retirement Accounts | 197,215 |   |
| Taxable/Nontax Investments | 60,936 | |
| Misc. (Gold/Silver/Cash/Collectibles) | 12,100 |   |
| Total Assets | 302,862 | +4,353 |
| | | |
| --- | --- | --- |
| Liabilities | Amount | Change from Last Month |
| Credit Cards | $15,894.52 |  0% interest rate. |
| Student Loans | 195,689 |   |
| Total Liabilities | 211,583 | +839 |
Net Worth = $91,278
Change in Net Worth from last month: +$3,514
Total Change in Net Worth Since July 2020: +$139,506
Net Worth Summary
The month of August was the last in which I received any outstanding compensation from my former job that I quit when we were mandated to return to the office 1000 miles away. The final payout I received was for accrued vacation time that I had not used. I may have mentioned before that I rarely was able to take vacation, so the amount of my final payout was for over two months of unused vacation. Despite adjusting my withholding exemptions before parting from that employer, the amount held for taxes was substantial so there will likely be a decent sized tax refund waiting for me in 2023 as well.
Despite this influx of cash from the vacation payout, my investment holdings declined in value so my net worth increase was only up about $3,500. On the bright side, the only reason it was positive for the month was because of the vacation payout! But those are done, so I am now completely at the mercy of Mr. Market, at least until I begin to generate an income from my other activities or decide to re-enter the workforce.
I also updated the value of my miscellaneous assets and discovered I was undervaluing them by quite a bit. Those miscellaneous items include physical precious metals in the form of coins, virtual gift cards I earn through websites like Swagbucks, and emergency cash I keep on hand.
Student Loan Forgiveness Update
Some big news on possible Student Loan Forgiveness would have an impact on my net worth, but not so much on my long-term financial situation. The current proposal, if enacted, would result in a reduction of $20,000 from my federal student loan balance. This would effectively push me over the six-figure net worth threshold. However, as I am currently earning no income, my student loan payments will continue to remain at $0 per month. While the $20,000 forgiveness may not have much of an impact on my situation, the proposed changes to the repayment plans would be significant for people in my situation. Capping loan payments at 5% of discretionary income (down from the 10% plan I'm currently on) and not allowing any unpaid interest to capitalize on the loan.
The interest capitalization adjustment would be an absolute game-changer for those with large student loan balances. For a borrower making payments that don't even cover the interest on the loan, over the 25 year repayment period this would substantially reduce the potential tax-bomb at the time of forgiveness since that interest won't compound over the life of the loan. I think it's still a long shot that all of these proposals survive the legal challenges that will surely follow, but it's nice to see some potential hope at the end of the tunnel.