Entertainment expenses can be a major source of budgetary stress as the costs of these activities continue to climb. With the ongoing Covid-19 pandemic I've seen my at-home entertainment spending increase considerably while pulling back on more public activities like movie theatres. During the pandemic, I've been doing much more reading and saving money on books can mean cutting your book budget by over 50%. List prices on new hardcover books can easily reach $30 these days and if you regularly purchase the latest Stephen King, James Patterson, or John Grisham thriller, you could be spending hundreds of dollars per year on books that then usually sit on a shelf in your home never to be touched again. There has to be a better/cheaper way!
Garage Sale Books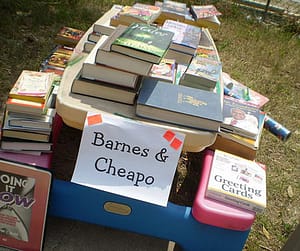 Sometimes you can find good books at neighborhood garage sales. Unfortunately, these books are usually not very new. The trade-off here is that you can usually haggle quite a bit and get garage sale books very inexpensively as the owner likely just wants to get rid of them. Hardcover books can usually be had for $1-2 and paperback for under $1 each. Now that Spring has sprung, be on the lookout for garage and yard sales to pick up some summer beach reading material!
Thrift Store Books
Another place to find a large selection of books is at thrift stores. Oftentimes people will donate entire book collections to these stores when they're moving or just doing some spring cleaning. If you happen to have a nearby thrift store, you could even turn this into a decent side hustle by scanning the books for sale to find hidden gems that may be worth considerably more to online buyers.

Little Free Library
You have probably seen the Little Free Library around your town. There are a few of these little libraries within walking distance of where I live and you can always find some interesting books inside! The way the Little Free Library works is that you can borrow books from it and also place books you no longer need inside the box for other people to borrow. Their motto is "take a book, share a book." With libraries across the country closing during the Covid-19 pandemic, the Little Free Library became a great alternative and continued to allow access to reading material for adults and children. There are over 100,000 Little Free Libraries in over 100 countries around the world. Check the Little Free Library map to see where the nearest one is located.
Selling Your Books
One thing you could do is sell your books on a site like eBay or the Amazon Trade-In program to recoup some of the cost. eBay will take a commission on the final sale price and then you'll need to mail out the book to the auction winner. Typically, eBay will perform best when you list a single book in each auction. This could mean a fair amount of work on your part to list all of your books individually and then mail them out as they sell. The Amazon Trade-In program is a great option if you have a lot of books to get rid of that Amazon is interested in taking off your hands as, many times, you can ship them all at once and receive your Amazon gift card credit rather quickly after shipping.
You won't likely get a significant amount of your money back when re-selling fiction and non-fiction books through eBay or the Amazon Trade-In program, but this method works great for college textbooks. In fact, there were several semesters in my undergrad years that I was able to successfully purchase used textbooks through various websites and re-sell them at the end of the semester for the same price I paid, or even more. A great resource for quickly finding the lowest online price for buying a book and the highest buyback price is BigWords.com.
Trade Your Books
But what if you really prefer the latest and greatest new releases that rarely turn up in thrift stores until long after the book has been on the market? For this, I use a website called PaperBack Swap, but don't let the name fool you as you can also trade hardcover books too. Trading books has become my favorite method for saving significant sums of money on my book habit. The great thing about PaperBack Swap is that you don't need to swap one specific book for another at the same time. Simply list the books you are ready to part with on their site and if another member wants that book, then you just print off the postage (anywhere from $2-4/book in my experience), wrap your book, and drop it in the mailbox! After sending your unwanted book you receive a credit on PaperBack Swap that you can now use to request a book (for free!) from another member.
You can also choose to purchase book credits for $3.95/each if you want to receive more books than you are sending out to the other members – the choice is yours. Even when there seems to be a large number of members on the waitlist for a new release book, it moves quickly as copies are circulated around the membership. Using this method, I can now read my favorite new release books for a cost of $4 or less per book, a savings of up to 90% off retail! Because you own the book, you can also choose to hang onto it permanently if you so choose!