It's been six months since my last update or post here on The Money Sloth dot Com. I happened to have a job offer presented to me at the end of 2022 that I have been working on. I really don't know how so many bloggers out there manage a full-time job and keeping up with regular blog post writing. Granted, this job I was doing required 60-70 hour work weeks, but it's still a testament to the dedication of so many bloggers out there. Because I fell behind with my net worth tracking, there won't be any month over month comparisons in this post but I hope to get back on track with monthly updates and other financial content as my current employment engagement winds down.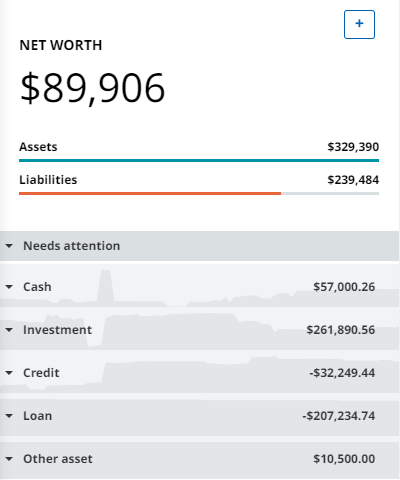 Net Worth = Assets minus Liabilities
| | | |
| --- | --- | --- |
| Assets | Amount | Change from Last Month |
| Checking/Savings | $57,000 |   |
| Retirement Accounts | 205,300 |   |
| Taxable/Nontax Investments | 56,590 | |
| Misc. (Gold/Silver/Cash) | 10,500 |   |
| Total Assets | 329,390 | |
| | | |
| --- | --- | --- |
| Liabilities | Amount | Change from Last Month |
| Credit Cards | $32,249 |  0% interest rate. |
| Student Loans | 207,235 |   |
| Total Liabilities | 239,484 | |
Net Worth = $89,906
Change in Net Worth from last month:
Total Change in Net Worth Since July 2020: +$138,134
Net Worth Summary
As I mentioned at the top of the post, I've been working full-time for the past six or seven months. I set up a consulting company that I have been investing a lot of the proceeds back into so the impact on my net worth isn't as substantial as I would have expected. I don't track the value of my physical assets beyond gold, silver, and cash so the business equipment purchases aren't reflected here. The creation of my consulting business also allowed me to create a Solo 401k plan. This self-directed retirement plan provides incredible flexibility and retirement planning options that often don't exist within a workplace 401k plan or personal IRA. As I continue to roll my other retirement accounts into this new Solo 401k plan, several new opportunities have presented themselves for how I can use these funds. I will certainly be writing about some of these opportunities in the future.
One thing became clear over the past several months… self-employment is expensive. I've had to purchase a new computer, desk chair, office supplies and furniture, quarterly estimated taxes, software, etc. On the bright side, the tax code in the United States allows for deductions for all of these business startup expenses.
Savings Account Interest Rates
One of the most significant changes since my last net worth update is the soaring interest rates paid on savings accounts. While the big banks are still only paying 0.01%, many online banks are now paying in excess of 4% APY. If all my cash was earning that 4% rate, it comes to nearly $200 per month in interest earnings.
0% Interest Credit Card Arbitrage
A big part of the reason for such significant savings account balances is that I am utilizing 0% interest rate offers on new credit cards to arbitrage that cash.  Several credit cards offered me 12-18 months of 0% APR on purchases. By only paying the minimum each month and keeping that cash in a savings account earning 4+%, I am able to borrow money from the credit card company at no cost and earn a 4% return on it. Some simple math on a credit card offering a $200 signup bonus and a $15,000 credit limit at 0% for 18 months means that I could reasonably hold $10,000 on the card at 0% and earn an additional $600 in savings account interest for a total bonus of $800 for signing up and utilizing the card. That's free money that takes virtually no effort at all to earn. Passive earnings are my favorite kind.