I posted my initial Net Worth Update for July when I reported a starting net worth of -$48,228. Now it's time for the August Net Worth Update.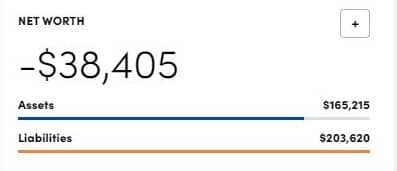 I'm starting out the month of August with a net worth of -$38,405. That is a huge jump toward getting to zero. Month over month, that is an increase of $9,823. Let's dig into the numbers and see how this happened.
Net Worth = Assets minus Liabilities
| | | |
| --- | --- | --- |
| Assets | Amount | Change from Last Month |
| Checking/Savings | $36,928 | -$5,070 |
| Retirement Accounts | 108,061 | +14,179 |
| Taxable Investments | 15,226 | -481 |
| Misc. (Gold/Silver/Cash/Collectibles) | 5,000 | 0 |
| Total Assets | 165,215 | +8,628 |
| | | |
| --- | --- | --- |
| Liabilities | Amount | Change from Last Month |
| Credit Cards | $5,306 | -$1,023 |
| Student Loans | 198,314 | -172 |
| Total Liabilities | 203,620 | -1,195 |
Net Worth = -$38,405
Change in Net Worth from last month: +$9,823!
Assets
During the month of July, I made my 2019 contribution to a Roth IRA before the extended IRS deadline of July 15th, 2020. I chose to make a Roth contribution for 2019 because my income last year was quite a bit lower than it will be this year and I found myself in the 12% marginal tax bracket. For 2020, I will be maxing out my pre-tax retirement account contributions as I am in a higher tax bracket this year. This IRA contribution explains the drop in Checking/Savings balances and accounts for $6,000 of the increase to the Retirement Accounts category.
The performance of my retirement accounts was due mostly to the significant increase in the price of gold and silver as those are two very large portions of my portfolio at this time. I have not re-calculated the value of my physical gold and silver coins so that line item is remaining the same this month.
Liabilities
As was the case last month, the credit card balances are either at 0% interest or part of a card balance that is paid in full each month. This balance fell slightly compared to last month.
The student loans are a bit more tricky to analyze as the vast majority of them are federal student loans that are currently frozen at a 0% interest rate with no payment during the pandemic as a result of the CARES Act legislation. Typically these loans have an interest rate of around 7%. I also have a small private consolidation loan that I continue to make payments on that has a rate of 5%. The decrease in student loan balance for this month is reflective of that private consolidation loan and the payment that was applied to it.
Overall, this was a good month and progress is being made! Stay tuned for my next post that will cover the details of my July budget.