Last month I posted my first monthly budget review and discussed some of the largest impacts to my budget, like living in a high cost of living area (Washington, DC), not having a car, and working two jobs. I hope these monthly financial updates help shed some light on real life examples of budgeting.
Here are the results of my July 2020 budget: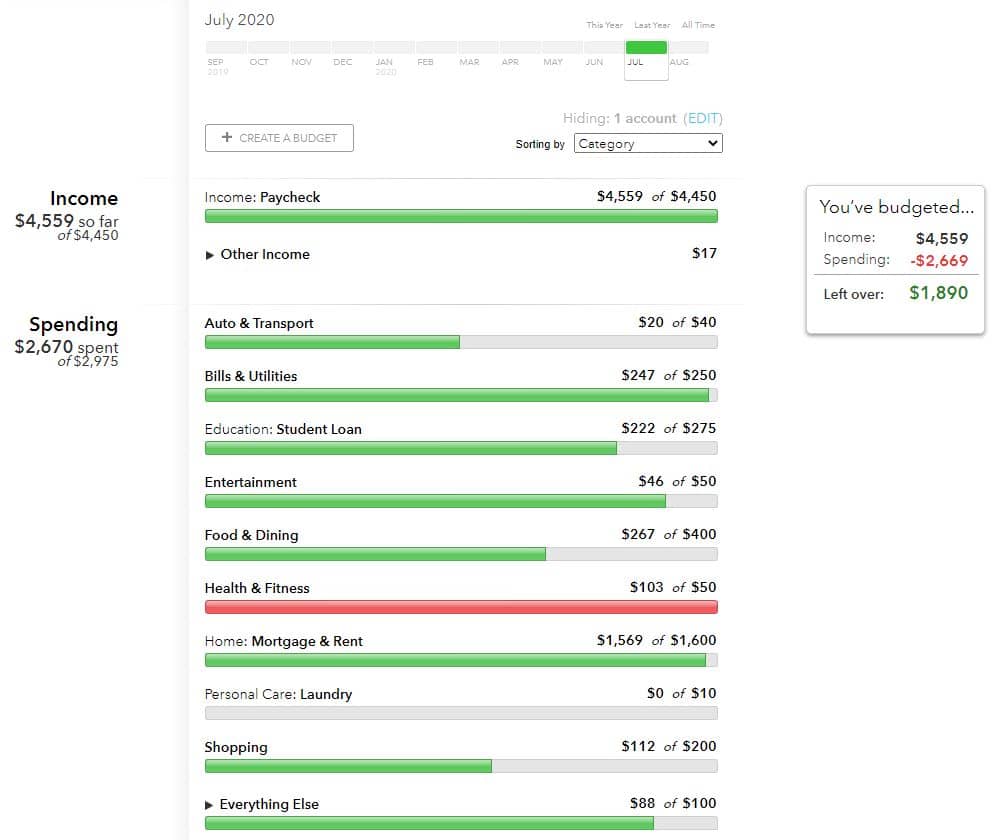 Once again, I'm utilizing Mint.com (it's free!) to track my monthly income and expenditures. For the month of July, I ended up saving $1,890 (outside of my employer-sponsored retirement account), for a net savings rate of 41.5%. Including the retirement contributions for the month, my savings rate is 45%!
Budget – Rent
My rent returned to normal in July after dipping slightly in June due to the pandemic-related refund of amenity fees. At $1,569 it's my largest monthly expenditure. This amount includes water and trash service. An interesting phenomenon has been occurring in the residential rental market the past few months due to the pandemic. Rents have been dropping significantly in some of the most expensive real estate markets in the country. In my own building in DC, the number of vacant apartments has soared and rents on studios have fallen by $500/month this year. What the data is showing is that people are leaving the expensive cities in droves and appear to be renting in cheaper suburban markets where rents have seen some strong growth.
As you can see in the table above, from Zumper.com, some of the most expensive rental markets saw price declines of over 3% in July, including DC, with a decline of 4.8% on one-bedroom units. The year over year declines are also quite striking in cities like San Francisco, the most expensive rental market in the country. Now contrast these declines with the strong growth seen in some rural areas in the next table:
In more rural areas like Akron, OH, Detroit, MI, Lincoln, NE, Columbus, OH, rents have increased 10-15% year over year! This is likely due to an influx of demand from those renters previously residing in high cost of living areas that are now able to work remotely and able to find a more affordable location to work from home.
I am looking forward to my employer making a decision on offering permanent work from home opportunities for those of us who may want to relocate to another part of the country for one reason or another. I know I would seriously consider moving out of Washington, DC if the opportunity to work from home permanently were offered to me.
Budget – Food & Dining
The food and dining category is one that I am actively trying to reduce after realizing how full my pantry is and that I need to start working through my stockpile before things expire! While the budgeted amount for this category is set at $400, I'm hoping to come in at half that amount next month and succeeded in spending only $267 on food and dining in July. I continue to save a considerable amount of money by not grabbing convenience fast-food items as I am rarely out and about these days.
Budget – Bills & Utilities
This budget category increased over June due to the expiration of my free Sprint Unlimited plan. While it was great to have a $0 cell phone bill for the past year, all good things must come to an end. My new Sprint plan includes unlimited everything plus Amazon Prime, Hulu, Tidal, and 100 GB/mo Hotspot usage. I am fortunate to get a discount on the regular price, but am also on the lookout for some ways to potentially reduce this monthly cost. I have used services like Mint Mobile before with varying degrees of satisfaction but am undecided if I want to go that route again now that so much of my work depends on my having reliable and fast phone access. This may end up being one of those categories that goes up as a result of the new normal of exclusively performing remote work.
Budget – Health and Fitness
Health and fitness is over-budget mostly because of a delay in getting Flexible Health Savings Account reimbursements before the end of the month. I choose to recognize those reimbursements as a negative offset to this budget category. Another option when doing your own budgeting is to count the reimbursements as income as it is effectively a return of funds that were originally withheld from your paycheck on a pre-tax basis.
Budget – What's Next?
Overall, July was a good month for coming in under budget. I managed to live on $2,670 in one of the most expensive cities in the country, with no roommates. While I don't subsist on ramen noodles and PB&J sandwiches, I do tend to live rather frugally by limiting my spending to essentials and a few things that bring me a bit of joy. By staying under my budget, this also means an additional $305 in savings for July, for a total of $1,890 saved over the month.
As I mentioned last month, I have made adjustments to my retirement contributions that begin taking effect in August that will max out my pre-tax retirement account for the year, but reduce my take-home pay by about $1,800/month through December. Based on the budget numbers for July, it looks like I may be able to achieve these higher contributions with my current income stream and not need to dip into savings to do it. Once 2021 rolls around, I can lower those retirement contributions to be spread evenly throughout the year.