I'm actually getting this month's net worth update posted in a reasonable amount of time for a change! I realize this blog has drifted a bit and while I fully expect to re-invigorate it this summer, I am glad I've continued to document my financial progress with monthly net worth posts. If anything, it helps me stay focused and make more informed decisions in my life.
Speaking of decisions, one of the most significant ones was making the choice not to continue with my current employer when we were faced with an ultimatum… return to work in the office, or quit. Well, I chose the latter. I moved over a thousand miles away from my office during the 2+ years we were all required to be working from home.
While I was the first at my employer to submit my resignation notice as a direct result of this new policy, additional resignations have been submitted in this past week as we hit the 3 week mark before the mandated return. I expect this coming week to see another surge of resignations as people stick to giving a more traditional 2-week notice. Still others have told me they are actively interviewing for new jobs and will leave once they secure a firm offer. Our closest competitor for employees just announced they are now a "remote-first" employer and this will surely have a significant impact on my current employer as they continue to insist we must be working in-person to be effective (completely ignoring the 2 years of successful work from home during the pandemic). With all this said, I feel very secure in my decision to leave as it now appears I was the first to escape a rapidly sinking ship.
Now, let's take a look under the hood of this month's finances. There will be one or two more net worth updates before the compensation for my current job ends, but this is a good indicator of where I am heading into that last month.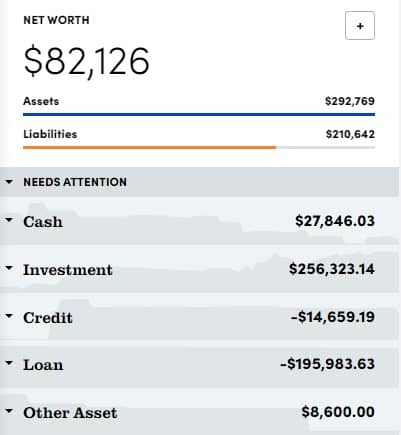 Net Worth = Assets minus Liabilities
| | | |
| --- | --- | --- |
| Assets | Amount | Change from Last Month |
| Checking/Savings | $27,846 |   |
| Retirement Accounts | 194,688 |   |
| Taxable/Nontax Investments | 61,635 | |
| Misc. (Gold/Silver/Cash/Collectibles) | 8,600 |   |
| Total Assets | 292,769 | +8,557 |
| | | |
| --- | --- | --- |
| Liabilities | Amount | Change from Last Month |
| Credit Cards | $14,659 |   |
| Student Loans | 195,984 |   |
| Total Liabilities | 210,642 | -2,334 |
Net Worth = $82,126
Change in Net Worth from last month: +$10,891
Total Change in Net Worth Since July 2020: +$130,354
Net Worth Summary
This June update recovers most of the losses from the market downturn that hit my last update pretty hard. Some things I have continued doing over the past few months is accelerating the maxing out of my retirement accounts before my current job ends in June. These increased contributions are essentially buying the dip in the market and I'm satisfied that it will be a good thing in the long run.
I've written previously about shifting a chunk of my investments into oil and gas producers early this year and that continues to pay off as oil and gas prices have soared as a result of the Russian invasion of Ukraine. This has directly attributed to my positive YTD investment returns versus the 14% drop in the overall market.
You can see a correlation between my portfolio return and the US Stock index and that's because the majority of my investments are in traditional allocations. However, because of the very strong growth from a smaller group of stocks in my portfolio, the gap between the two trends is continuing to grow. I feel confident in continuing this strategy as oil prices will not be falling anytime soon, absent a massive global recession and the economic data just doesn't support that right now.
I've had more than one person ask if the downturn in the market had given me pause in deciding to end my current employment. It's a tough question to answer because I was able to escape the brunt of the downturn. However, I don't think the performance of my portfolio would have impacted the decision to not move over 1000 miles to a HCOL area and sign a lease in order to keep my current job. What I think may have changed is the amount of energy I would be putting toward job searching.
Preparing for Joblessness
As it stands right now, I feel comfortable in taking a more deliberative approach to deciding what to do next with my time. This is one of the most powerful benefits of having built a strong financial foundation… it gives you time. Time to make a better decision for yourself and your family, time to search for the right job not the "right now" job, or even just time to mentally recharge after a grueling pace and suffering from burnout.
In my case, I am still a bit short of my early retirement goal for my assets. While I plan to reside internationally in retirement and significantly lower my cost of living, $300,000 is still a bit too low for my comfort level. I expect to shift the focus of The Money Sloth from one of tracking my net worth while working a middle class job to more entrepreneurial pursuits in order to bridge the financial gap between my retirement goal number and my current asset balance over the coming few years.
The elephant in the room is the student loans. I am currently halfway through the Public Service Loan Forgiveness requirements and would need to work another 5 years for a qualifying employer in order to receive forgiveness on these loans. However, given the current political state of the country, I'm not 100% confident that PSLF will be granted in five years time. Under our current system, outside of public service, after 25 years of payment these loans would be discharged (and taxed as income), however that is a long time and a lot of things can change between now and then. Additionally, with the income-based repayment system it is entirely possible to live and work in another country and have a $0 monthly student loan payment. It's also possible I can consolidate my loans in 20 years time and start the 25 year clock all over again, effectively pushing the tax-bomb off indefinitely. I have discovered many options to deal with this and I plan to continue exploring them and write about it here.
I have also been evaluating my monthly budget to find things to cut in order to further reduce my spending as my paychecks dry up. I'll have a post coming soon about this deep dive into my budget to scour for savings.