According to Consumer Reports, the average cell phone bill for 2 people is now at least $100. The phone bill per month for one person starts at $65 and is often around $85 for an unlimited plan once you include taxes and fees. With the price of everything seemingly rising out of control lately, it is a great idea to explore ways to save money on your cell phone bill. Keep reading to explore 6 ways that you can save money on your cell phone bill. Some of these options don't make any changes to your service at all and could cut your bill for the exact same service you receive now!
#1 Switch to a MVNO – Mint Mobile, US Mobile
In all honesty, there are some trade-offs to using an MVNO (Mobile Virtual Network Operator). The most noticeable is that your data is de-prioritized by the major providers. This is because they let their (higher paying) customers get the best access. This means you may see slightly slower speeds sometimes as they let their own customers get access first during times of network congestion. For the vast majority of people, this isn't that big of a deal. Personally, I've never had it cause me any problems.
These MVNOs can save money on your service because they are leasing capacity on the major carriers' cell phone infrastructure. This means the MVNO doesn't have any of the overhead of building and maintaining cell towers and networks. Therefore, the major carriers are able to generate additional revenue from unused capacity. It's a win-win for everyone involved and this is a way to save a lot of money on your cell phone bill!
Mint Mobile
I've been a customer of Mint Mobile in the past and found the service to provide what I needed. It's a no-frills offering, but includes unlimited talk & text with 5G coverage and free (limited) hotspot data. Even though Mint Mobile owner Ryan Reynolds can be seen all over TV advertising his low-cost phone service, all the advertising spending isn't causing any issues with maintaining their low-pricing.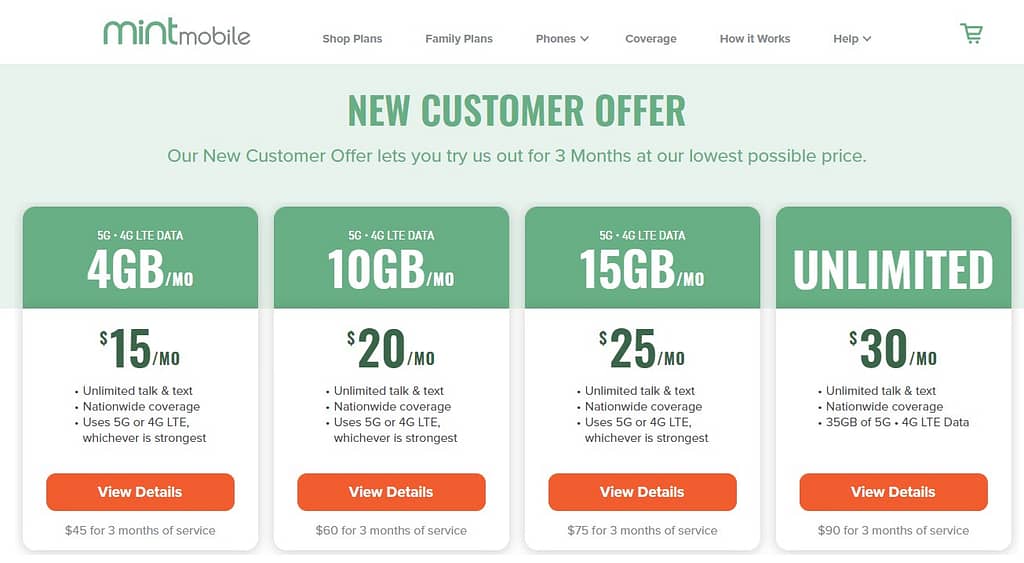 Compared to the $80-90 average monthly price of an unlimited plan with a major carrier, the savings here can be substantial. If you switch to the highest priced Mint Mobile plan you'll be saving $50-60 per month and even more if your data usage is less than 15GB in an average month and you downgrade to a capped data plan.
US Mobile
I recently switched to US Mobile and have been quite happy with the service. Based on my location, I was put on the Verizon network. US Mobile also partners with T-Mobile so you're likely to have great coverage available no matter where you are.
There are a lot more customization options with US Mobile than the cookie cutter plans offered by Mint Mobile. I chose the 12 GB Unlimited Talk & Text plan from US Mobile and it is currently the same price as the 10 GB plan from Mint. However, if you're someone that wants unlimited data, then the US Mobile plan will cost $5 more than Mint.
US Mobile also offers an "Unlimited Premium" plan that costs $10 per month more than the Unlimited Basic, but includes more 5G data, mobile hotspot, international data, and 5G mmWave capability. The Unlimited Premium plan also offers non-deprioritized data access on the Verizon network. The lack of de-prioritized data makes this plan virtually identical in every way to what you'd get from a major carrier unlimited plan, but for around half the price!

#2 Partner up with friends/family and get a family plan
It seems that every cell phone carrier has focused on the "family plan" as a way to market their prices. For someone like me, it ends up quite misleading when AT&T advertises a price of $35/mo for their unlimited data plan only to find out it requires 4 lines of service. Since I'm just one person, they would charge me $65/mo for the exact same plan!
Because of these enormous discounts for having multiple lines of service, it could make sense for you to join up with friends or family members to get on a plan together. In this AT&T example, it could net you savings of $30 per month per person that joins your phone service group!
I occasionally hear people bemoan kids staying on their parents' cell phone plan in college and beyond, but it just makes good financial sense!
#3 Downgrade to a base plan
There seems to be a trend lately to offer multiple tiers of "Unlimited" cell phone plans. AT&T has three different unlimited tiers, Verizon has four unlimited plans, and T-Mobile has at least three unlimited plans. There's usually differences in video streaming quality, hotspot limits, or added "complimentary" subscriptions to Hulu, Amazon, Spotify and other services.
The price difference between the lowest and highest unlimited plan is usually around $20-30. If you currently have one of these Unlimited plans, it's worth taking a look to see if you can save money by switching to a lower tier plan. It makes no sense to pay for something you aren't even using!
#4 Save Money with Autopay
Many carriers offer a $5-10 discount on your bill if you agree to autopay your bill each month. If you aren't already taking advantage of the $5-10 per month autopay discount, start now! This is free money simply for having your cell phone bill automatically charged to your credit card, debit card, or checking account each month. You're going to pay the bill anyway, so you might as well save $5-10 each time you do so!
#5 Claim an affinity group discount to save money
There are quite a few special discounts that the major carriers offer for members of specific groups. This could be your employer, veteran status, school, or membership club. Prior to changing my service from Sprint to US Mobile recently, I had a plan that offered me a $10 per month discount just because of who my employer is! Nearly every carrier offers veteran or government/first responder discounts, but some are also offering discounts for seniors and other specific employers.
The links below will take you directly to the page that offers details on claiming your discount based on your employment or other group affiliation.
AT&T – Military, Veterans, and their families. First Responders. Nurses and Physicians. Teachers. AARP, Unions, Select Employers, and Students can save $10/mo and can check their eligibility here.
Verizon – Military & Veterans, First Responders, Teachers, Nurses, Select Employers (including government and education employees), and Students.
T-Mobile – Select Employers, Healthcare, Government, Education, Military, First Responders.
Like the autopay discount, this is free money and doesn't impact your service plan at all so check with your carrier to find out if you qualify.
#6 Change/drop your cell phone insurance
Cell phone protection plans offered by the major carriers can cost as much as $20 per month for the latest and greatest iPhone and Android flagship devices. However, many credit cards offer complimentary cell phone insurance coverage if you use that card to pay your monthly cell phone bill. You probably have one of these cards in your wallet already!
This specific credit card benefit requires that you charge your monthly cell phone bill to that card and will cover up to a certain dollar amount in the case of damage or theft of your device. The coverage is usually limited to about $600-800 per claim ($25-50 deductible) and there are limits to the number of claims you can make in a rolling 12-month period, but this is similar to the coverage you'd get for $20 per month through your carrier anyway.
Some of the credit cards offering this protection include:
Chase Freedom Flex (No Annual Fee)
Wells Fargo Active Cash (No Annual Fee)
U.S. Bank Visa Platinum (No Annual Fee)
Deserve EDU Mastercard for Students (No Annual Fee)
American Express Platinum
Delta SkyMiles Platinum & Reserve
Capital One Venture X Rewards
Some of the No Annual Fee cards listed above also come with new cardmember sign-up bonuses so you won't just start saving $20 per month on your cell phone insurance, but you'll get a couple hundred dollars just to sign up and make some purchases in the first three months!
Cheaper Cell Phone Insurance
If you'd prefer to maintain a dedicated cell phone insurance plan, take a look at 3rd party insurance carriers to save money over what the major carriers charge. One of my favorites is Upsie, which offers plans tailored to your specific device and at the high-end you can have your iPhone 13 Pro Max covered for less than $7 per month. This coverage comes with a $49 repair deductible and $149 for a device replacement and covers accidental damage, spills, screen cracks and more. Keep an eye out for a discount code as well since Upsie regularly sends them out to those who sign up for their e-mail list. If you sign-up using the link in this post you'll automatically get 10% off your purchase too!