A few months ago, The Money Sloth won a scholarship to attend FinCon21 free of charge as a new financial blogger. It was a wonderful surprise to win and I was fully expecting to be in Austin to attend in-person. Unfortunately, the rapidly evolving Covid-19 pandemic meant I would have to stay put. However, I was happy to find that the #FinCon21 team put in a tremendous amount of effort to make 2021 a hybrid event with a virtual-only component meant to rival the in-person experience.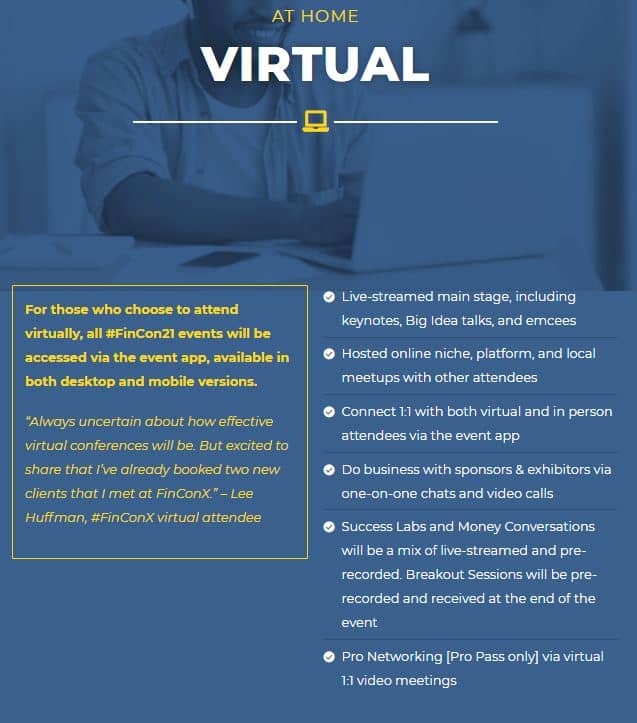 I just finished watching the pre-event Virtual Guide video and am looking forward to the live-event Virtual Orientation being held in a couple of hours to kickoff the 2021 event!
Looking ahead at the schedule, there is a lot going on and the best part is that all the sessions are being recorded and can be viewed in real-time and/or at a later date, so we won't miss anything! Let's have a look at some of the sessions being offered:
Marketing Your Brand: Our Early Moves to Find Success and the Pivots We're Making Today – Stacking Benjamins

1M+ Followers from a Potato Phone: Creating Powerful, Organic Media When You're Broke – Investment Joy

How to Build a Blog Post for Maximum Traffic – Hit Publish

Bouncing Back from a Setback—How to Reset When You Fall Short of Your Goals – Credit Writer

3 Steps for a Popular & Profitable YouTube Channel – Gabby Wallace

From 4 Figures to 7: The Power of a Niche – Student Loan Planner

Stretch Your Content – How to Make More Money Without Spending More Time – Caroline Vencil

The Color of Money: Data, Perceptions, and Possibilities


How to Make $10,000+ a Month on Etsy with Digital Products – Money Hacking Mama

How We've Partnered with Some of the Biggest Brands in Finance – Debt Free Guys
These are just some of the specific topic sessions that are being offered at FinCon21, in addition to keynotes, breakout sessions, and niche meetups. I'm especially looking forward to the sessions From 4 Figures to 7, How to Build a Blog Post for Maximum Traffic, and Marketing Your Brand. These are all topics that should help drive The Money Sloth's momentum into 2022. There appear to be special sessions for blogging, podcasting, video social media, freelancing and entrepreneurship too. Something for everyone.
I'm looking forward to immersing myself in the topics and getting acclimated to FinCon virtually this week so that I can hit the ground running at FinCon22 in Long Beach, California.