It's been a while since I posted here, in fact my last post was the October Net Worth Update.
Net Worth = Assets minus Liabilities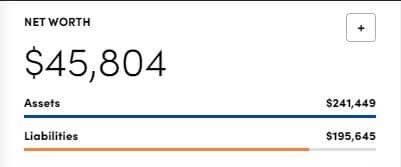 | | | |
| --- | --- | --- |
| Assets | Amount | Change from Last Month |
| Checking/Savings | $56,301 |   |
| Retirement Accounts | 159,636 |   |
| Taxable Investments | 13,712 |   |
| Misc. (Gold/Silver/Cash/Collectibles) | 11,800 |   |
| Total Assets | 241,449 | +13,968 |
| | | |
| --- | --- | --- |
| Liabilities | Amount | Change from Last Month |
| Credit Cards | $3,784 |   |
| Student Loans | 191,861 |   |
| Total Liabilities | 195,645 | +726 |
Net Worth = $45,804
Change in Net Worth from last month: +$13,242
Total Change in Net Worth Since July 2020: +$94,032
Summary
 The increase in Misc. includes a purchase of collectable cards. There has also been a healthy increase in my Retirement Account balances that can be attributed to both contributions and capital appreciation. I have increased my 401k-type contributions to be able to max out my pre-tax retirement contributions for 2021.
The slight increase in Liabilities is due to taking advantage of a 0% APR offer on one of my existing credit cards. I rarely receive these type of offers, but they were willing to give me 0% APR for 12 months on any new purchases on this credit card… no extra fees, no balance transfer requirement. It seemed too good to be true, but sure enough they are lending me money at 0%.
Taking both the increase in assets and liabilities into account, my net worth increased by $13,242 over the month of October. Since starting The Money Sloth in July 2020, the increase in net worth is $94,032. It's surreal to be only $6,000 away from the six-figure mark. I don't think I would have imagined that I'd be up $100,000 in a span of 1.5 years, which works out to an average of $5,555 per month.
Back to (Grad) School
I mentioned last month that my budget may be changing in 2022 in order to pay for grad school. However, I inquired with my employer about contributing toward my courses since they are directly related to my work. They reviewed my request and decided to pay for all of my graduate classes except for one. This is a very welcome development and helps to make up for the relatively lower cash compensation that I receive by working in a non-profit sector.
Another reason to go back to school is to broaden my skills and add a credential that I can use to be more competitive in the job market. This degree will be focused on several coding languages that are in high-demand in the tech sector. Right now, new tech employees are setting records for starting pay rates and seeing the benefits of a strong labor market and an extreme shortage of tech talent. While I am unsure if I would make the move to another sector, as I do like my current job, it is nice to have the option and right now I simply don't have the credentials to make the move even if I wanted to. Having the ability to change jobs quickly and easily is like the career-version of FIRE.